Authentic food cooked by your guides!
by Teresa Vilas Boas, general manager and guide.
It's an enormous pleasure to arrive to a picnic table prepared by one of our guides and listen to the owe sounds made by the cyclists. "Wow", "look at this", "oh" and a quick fetching for the phone are immediate responses. I can almost hear the sound of a picture been taken. Except most cameras don't have sound anymore!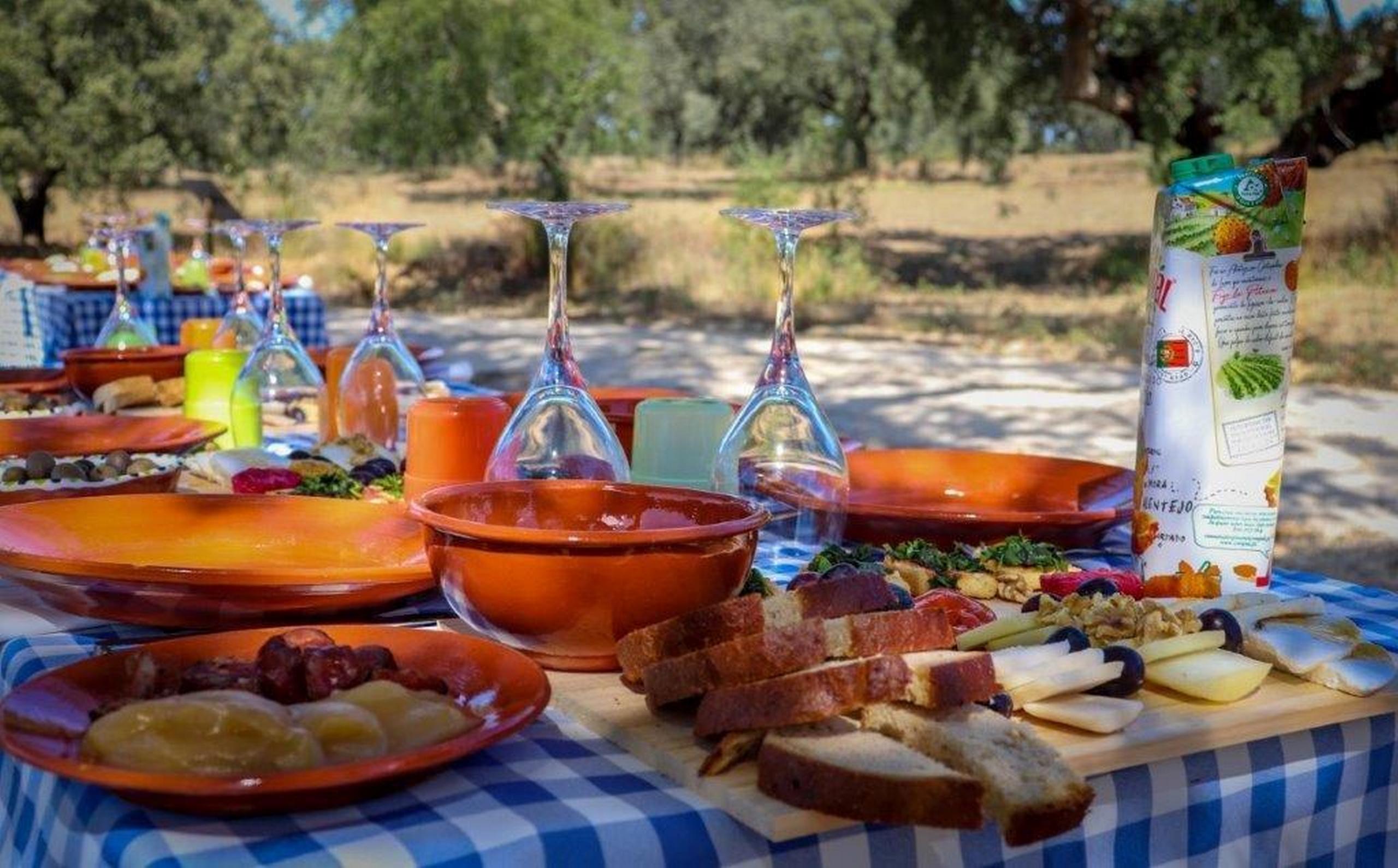 Photo: one fantastic picnic on our "Along the Coast" 
We eat with our eyes. Every chef knows that. Food has to be, first of all, beautiful!
And when you are not in a super fancy kitchen, but preparing a lunch outside in improvised conditions, the skills have to be even better, to succeed.
Gourmet Cycling Tours
Preparing a picnicis a task we put a lot of love into. We discuss menus in the office. We discuss the colours on the table. We say things like "yes, that's yummy, but it doesn't look good by that salad. Let's move it to the other side and put the bread basket in the middle". We want it to be gorgeous. We want you to take the picture!
And then, the cherry on top of the cake is when people ask for the recipe. Then we feel SUPER PROUD!!!
You have been on your bike all morning. You deserve a great lunch! Cycling Tours really go well with amazing picnics, don't they? That's why we want to always provide Gourmet Cycling Tours.
On our guided Portugal cycling tours you will be pampered by your guides with wonderful picnics! And while eating, you will learn a few things, as for instance how to choose your olive oil!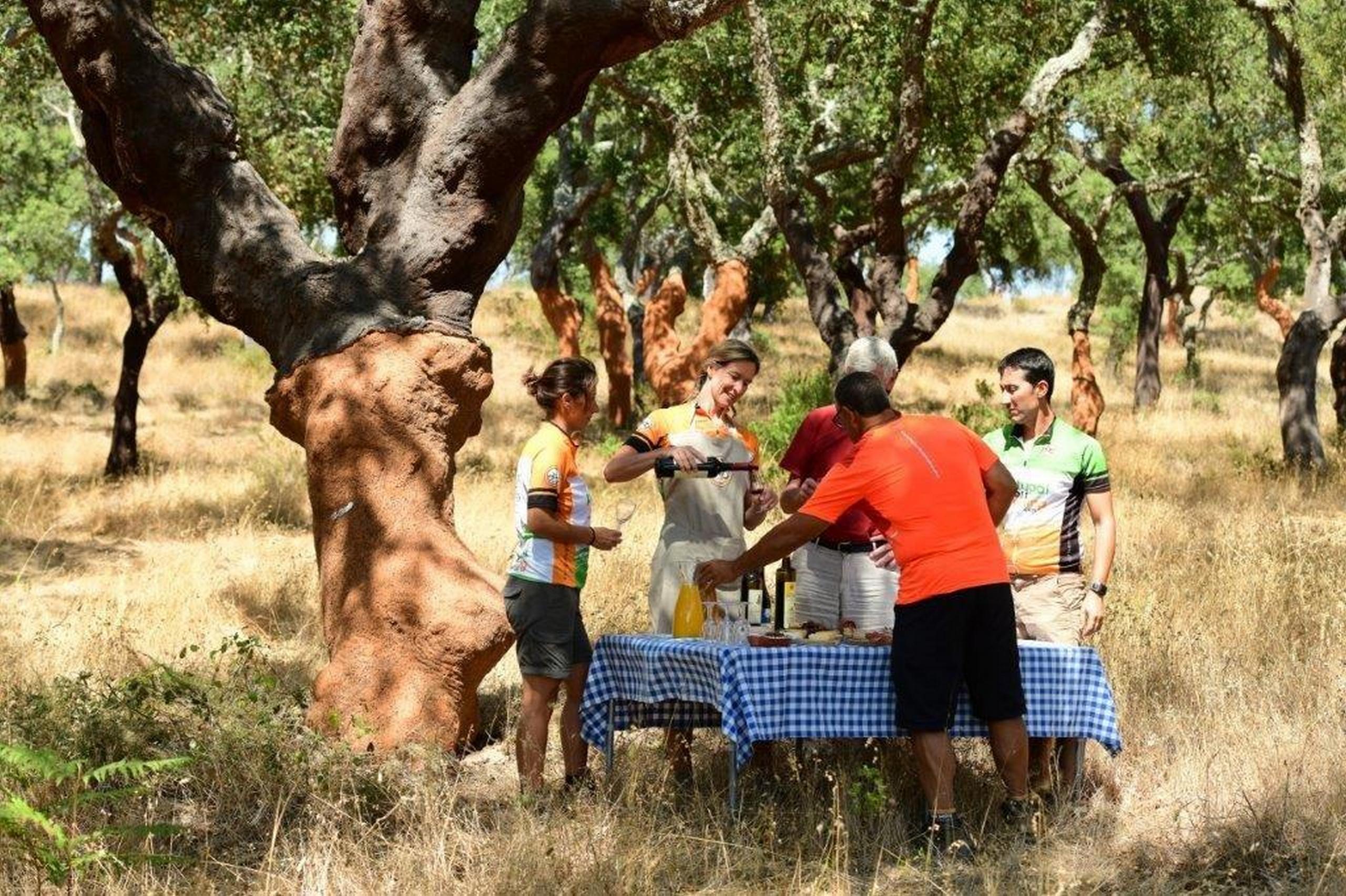 Photo: picnic in the middle of the cork trees
At our farm, Monte do Serrado de Baixo, in Cycling in Paradise tour, you can book a cooking class for the end of your cycling day. You may learn how to do our mushroom and coriander salad, our "farinheira" scrambled eggs, our typical tomato soup with goat cheese and poached egg. See some recipes in our COOK BOOK.
Or our wonderful orange cake! This is our speciality for breakfast. Delicious. Here is the recipe, try it!
When you are done, invest on the decoration and send us a picture ok?
If you prefer to do a guided online Cooking class, follow this link and do it with us! Have your ingredients ready before you start.
ORANGE CAKE
4 Eggs
125g butter, room temperature
200g sugar
1 orange zest
1 tea spoon of baking powder
125g flour
Plus syrup ingredients
Pre heat the oven 180º
Lightly butter the tin. Sprinkle with flower
Mix the butter with the yolks and beat.
Add sugar and orange zest and beat until creamy.
Add the flour with the baking powder and beat again.
Whip the whites until stiff and add to the mixture, without beating, just softly incorporating it.
Place in the oven at 180º for approximately 30 minutesAdd sugar and orange zest and beat until creamy.
SYRUP:
75g of sugar
1 dl water
1 or 2 oranges
Boil the water with the sugar until it thickens to a light syrup. Wait until it is cool. Add the juice of 1 or 2 oranges.
Place the cake in a plate. Make some holes with a fork. Cover with the syrup.
WHAT WILL YOU NEED
1 serving plate to put the cake afterwards – choose a pretty one or a white one
1 tin cake – any will do – with hole like a pudding cake or a round one. I tis not a big cake.
1 wood spoon or similar
1 tea spoon
2 table spoons
1 sharp kitchen knife
1 Baking spatula
2 bowls for beating whites and cake separately
1 little pan for syrup
1 brush or napkin to grease the tin
1 scales
1 cake mixer
1 orange juicer/squeezer
1 orange peel grater or the knife will do also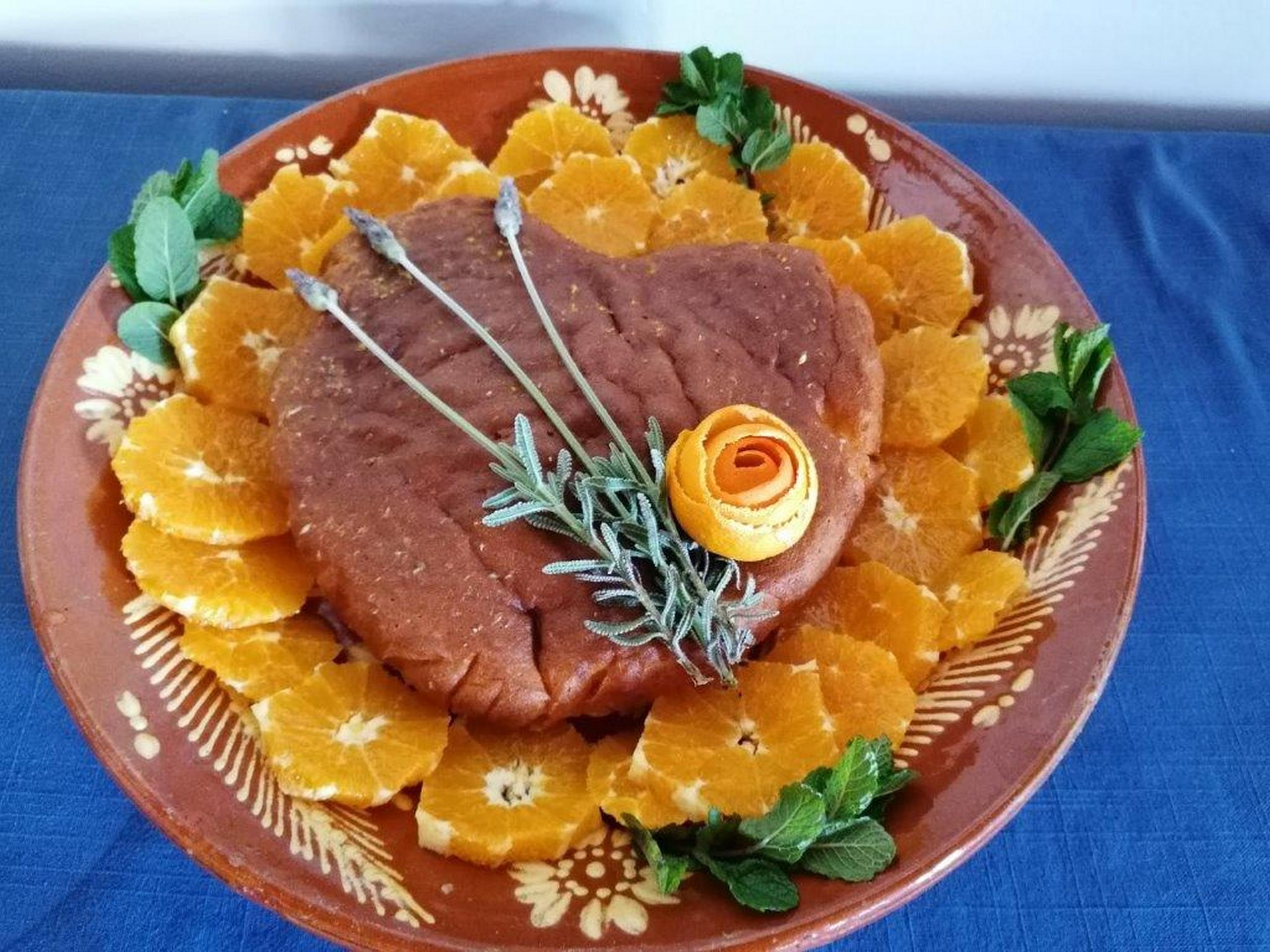 Photo: our great and famous orange cake