What better way to show you the "real thing" than being with the real thing?
by Teresa Vilas Boas, general manager and guide.
Many times I am asked the question "is Maria from your family?" or "all the staff we met really felt like they were part of the family. Are they?". When these questions are asked, we know we have achieved one of our main goals: To make you feel at home and make you feel welcome as one of the family and as by one of the family.
Because the very much in fashion word "authenticity" can be a marketing maneuver or can simply be what you are. And we are what we look like we are: a local business from a Portuguese family passed by my parents to me many years ago (which makes me old – ?!?! – and experienced) who only employs local people and whose management is obsessed by personal service, real authenticity (sorry for the pleonasm) and overcoming expectations.
All our guides are from here and that makes a huge difference in the way tours are run, in the way you are welcome at a café or a restaurant: you are received as a friend, not as a tourist.
One of the highlights of our bike tour in Portugal "Castles and Wine" is visiting pottery workshops. Working with Clay in Alentejo dates back to ancient times, even before the roman occupation.
I will never forget the time when we had a trainee whose family runs a pottery workshop. We actually used to stop at another factory, but when she was training as a guide, we went to her family business instead. You can't imagine the thrill! The mother was there, as well as the father and the grandfather! They already have electric wheels to work the clay, but the grandfather never adapted, so he still uses the "leg-engine" one!
You can imagine how proud he was to see his granddaughter with a group of foreigners explaining about their business!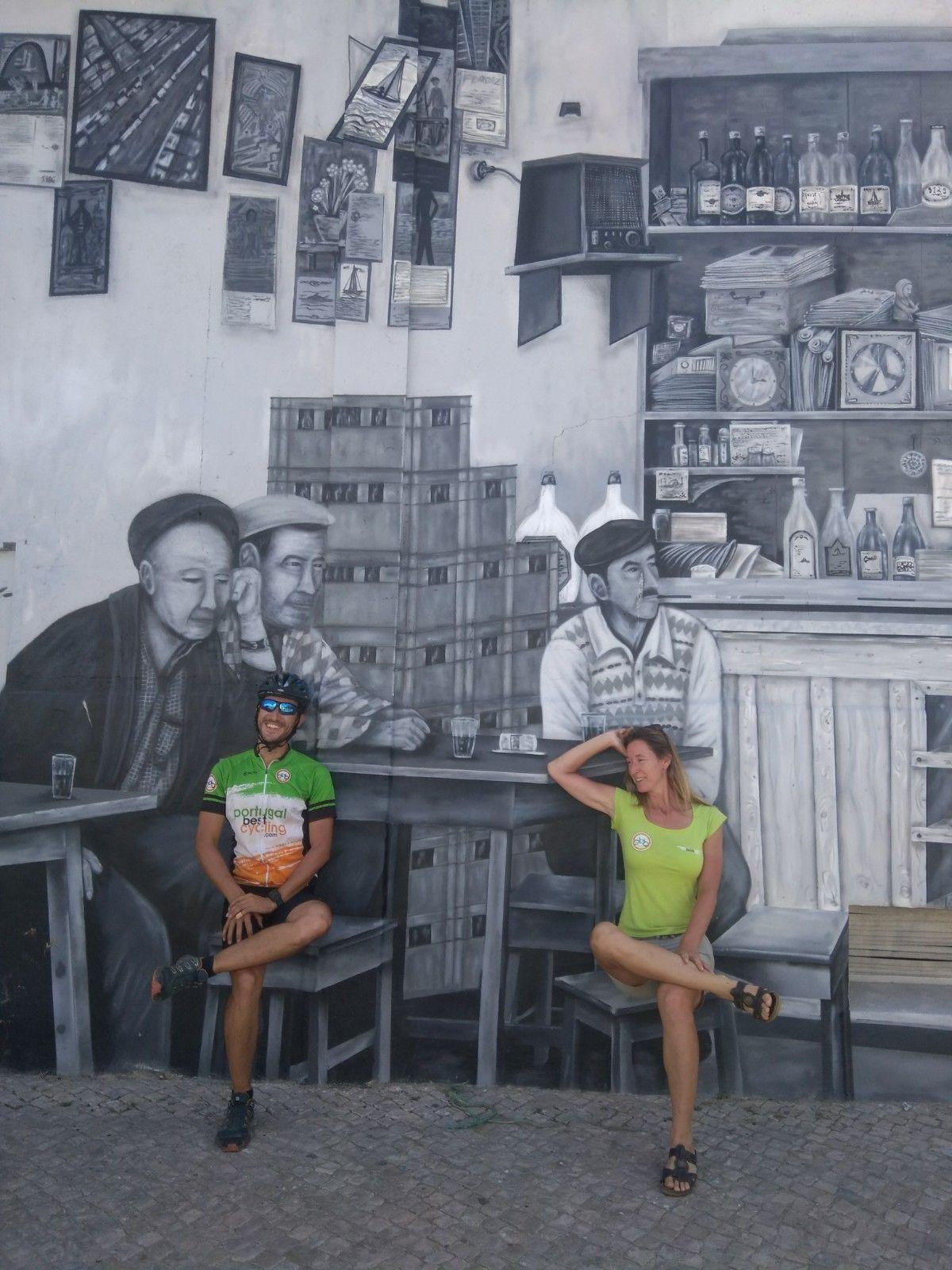 Olhão, an ancient, picturesque, hard-working fishing village full of stunning street art. Olhão natives have a distinctive dialect filled with Arabic influences. Photo: bike tour in Portugal's Alentejo region "Castles and Wine".
When we are guiding through our own homeland, we are not explaining things, we are living them. And we take our guests along in that experience.
Older people in Portugal don't speak English and besides that, they speak with a lot of local expressions that are not easy to understand by a foreigner speaking Portuguese. If you are biking with us, you will enjoy much more meaningful conversations. This because we will be able to help you interact with local people in a way only another local can make happen.
Our guides are locals themselves. And there is no better way to immerse yourself in a culture than to spend a week with a local. You may encounter their friends on the street, their families, their kids. Get their perspective on local history, economy and politics. You will taste their favorite cake from their favorite pastry shop. Non local guides cannot give you a true local experience.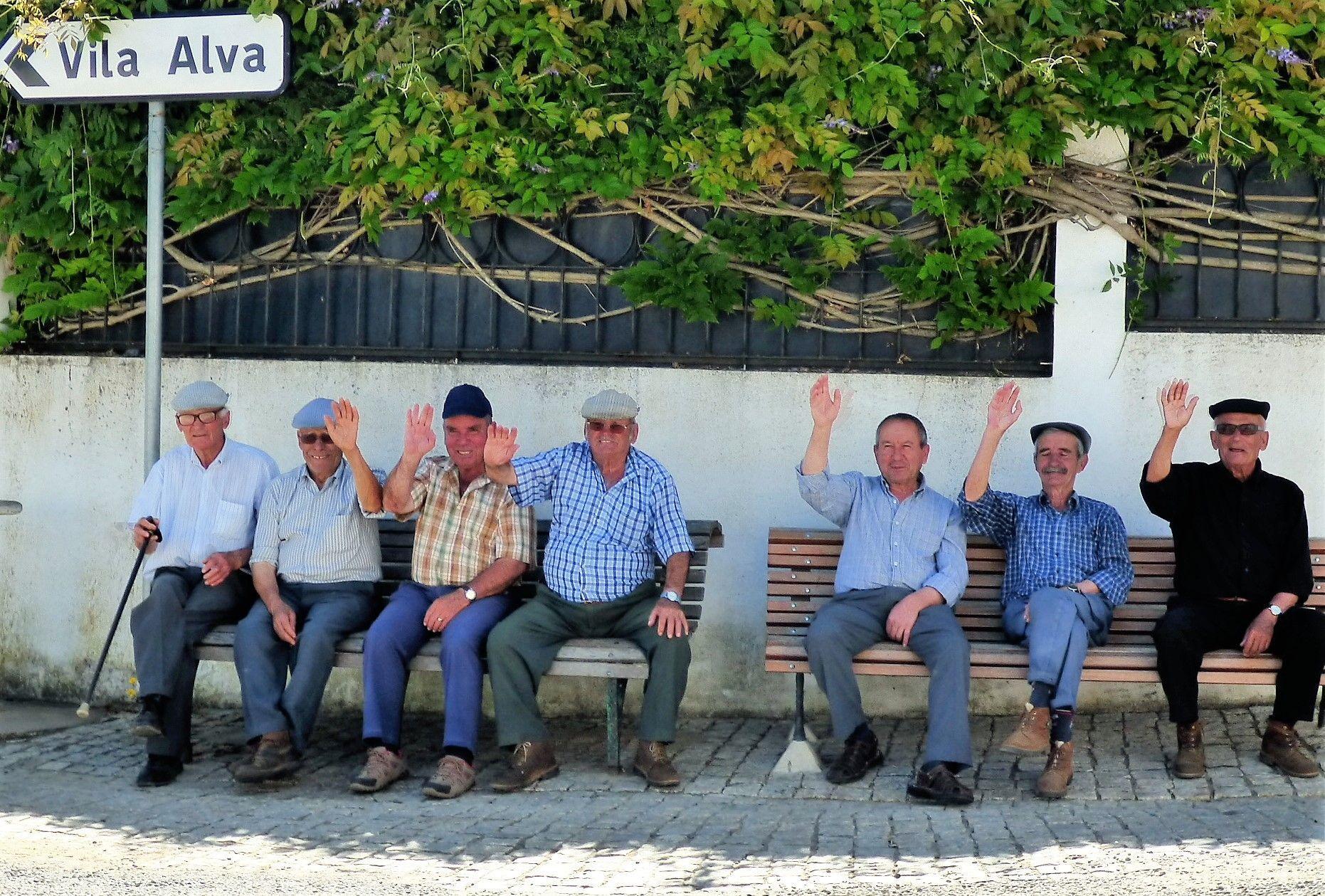 Photo: bike tour in Portugal, Alentejo region "Castles and Wine".
Then of course if you want "the best local cake" each of us will take you to a different place, and most likely you will end up meeting some of our acquaintances! In Alentejo no meal is complete unless it includes a cheese platter, that is why our picnics include a wonderful array of cheeses, presunto and also other cured meat delights.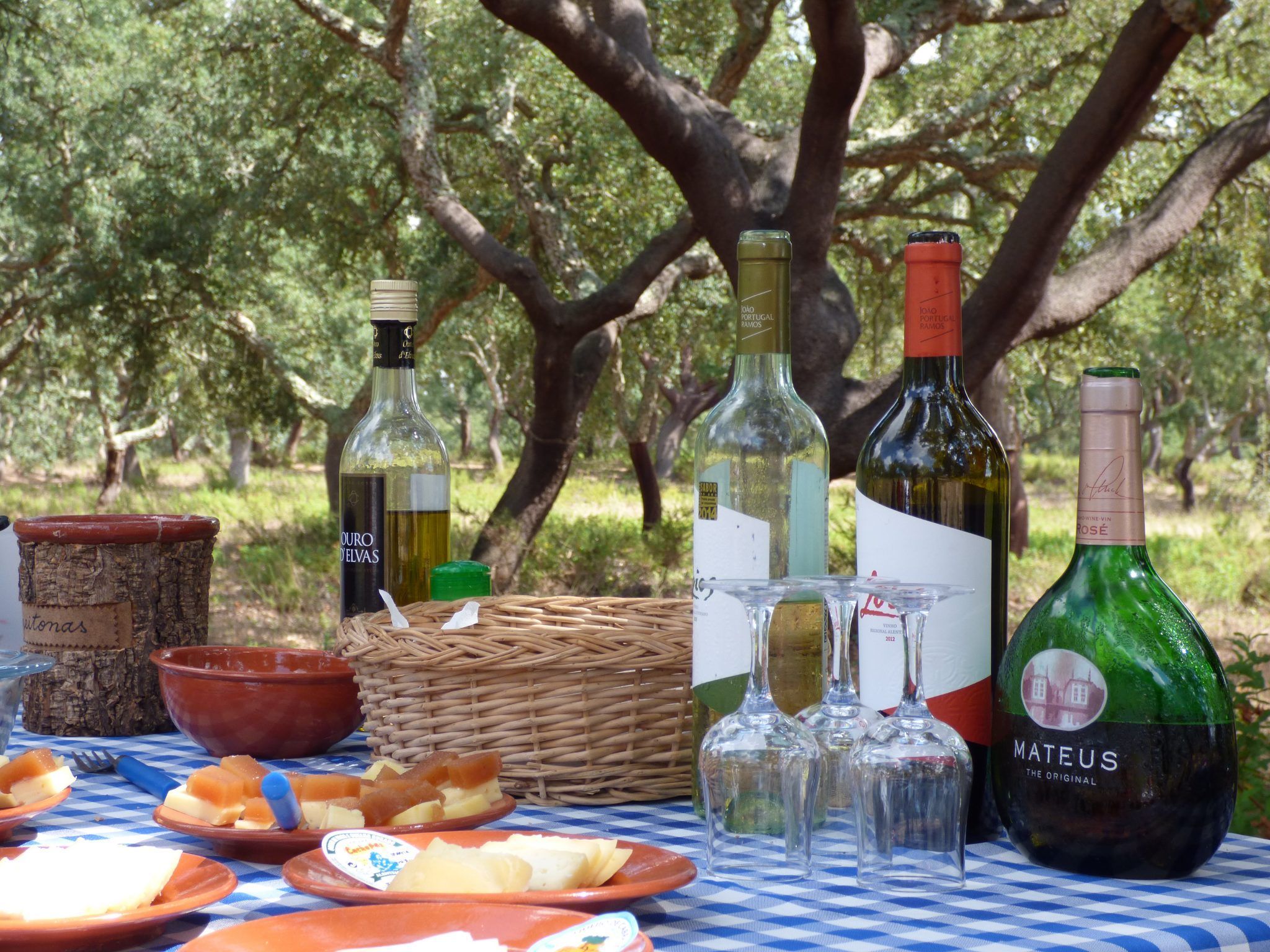 Photo: one of our many picnics in our bike tours in Portugal
The perfect introduction to the region's gastronomy are the taverns, one of my favorite Alentejo institutions. Their menus are often simple dishes with the local specialty porco preto, or black iberian pig, and the ever-present cheese and presunto platters.
Our bike tour in Portugal, "Castles and Wine", has an entire day dedicated to a tavern itinerary, cycling from Vila Viçosa to Estemoz.
The highlight is Adega dos Potes, because the dining room is surrounded by wine pots, but it is better known as Tasca do Ti Gato, the founder and current owner. The tavern is famous for the quality of the wine fermented in old carvings that can be admired in the cellar.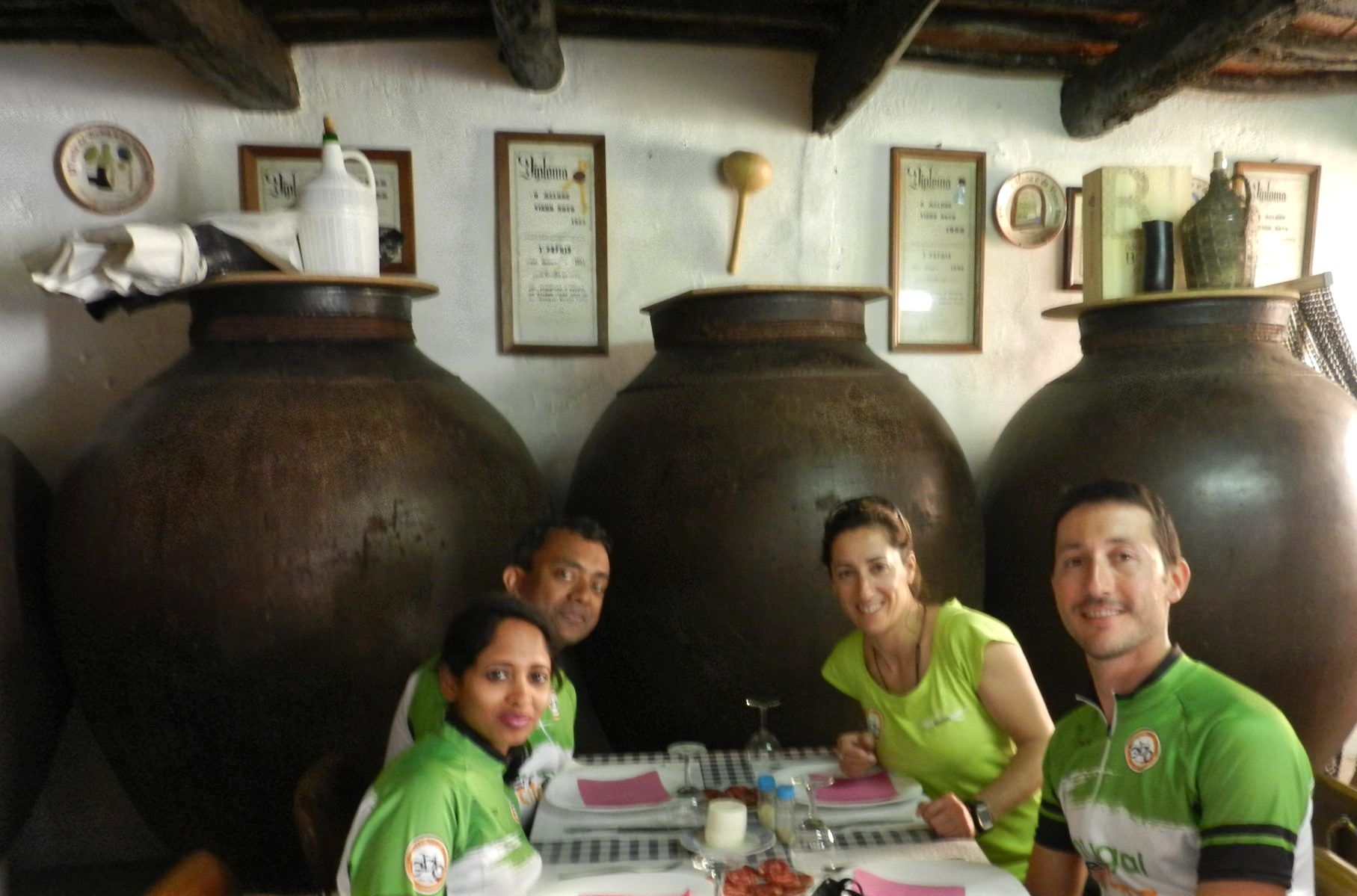 Adega dos Potes Tavern, better known as Tasca do Ti Gato. Photo: bike tour in Portugal, Alentejo, "Castles and Wine"
You can buy a trip from a big company and have a guide who works with all companies and maybe as already travelled the world….or you can go local, and have the real thing!