One of my favorite Christmas recipes and traditions!
by Teresa Vilas Boas, general manager and guide.
Today, and because Christmas was just here a couple of weeks ago, I would like to share with you my grandma's Rabanadas recipe.
To me there is no Christmas without the cod fish, the turkey stuffed with mince meet and the Rabanadas. There is a family competition around these topics and we all want to be the best, but really, grandma mastered the thing! We even made a book with our family Christmas recipes!!!
Rabanadas fit really well on a Saturday breakfast, especially in cold weather.
The bread that you use is quite important, so you may need to try 2 or 3 times with different ones before it comes out perfect.
We have what we call a "rabanada's bread", which is usually only available around Christmas time, but I do them with our Alentejo bread as well.
An important detail is that the bread must be 2 or 3 days old, so that it soaks up the milk well without falling into pieces.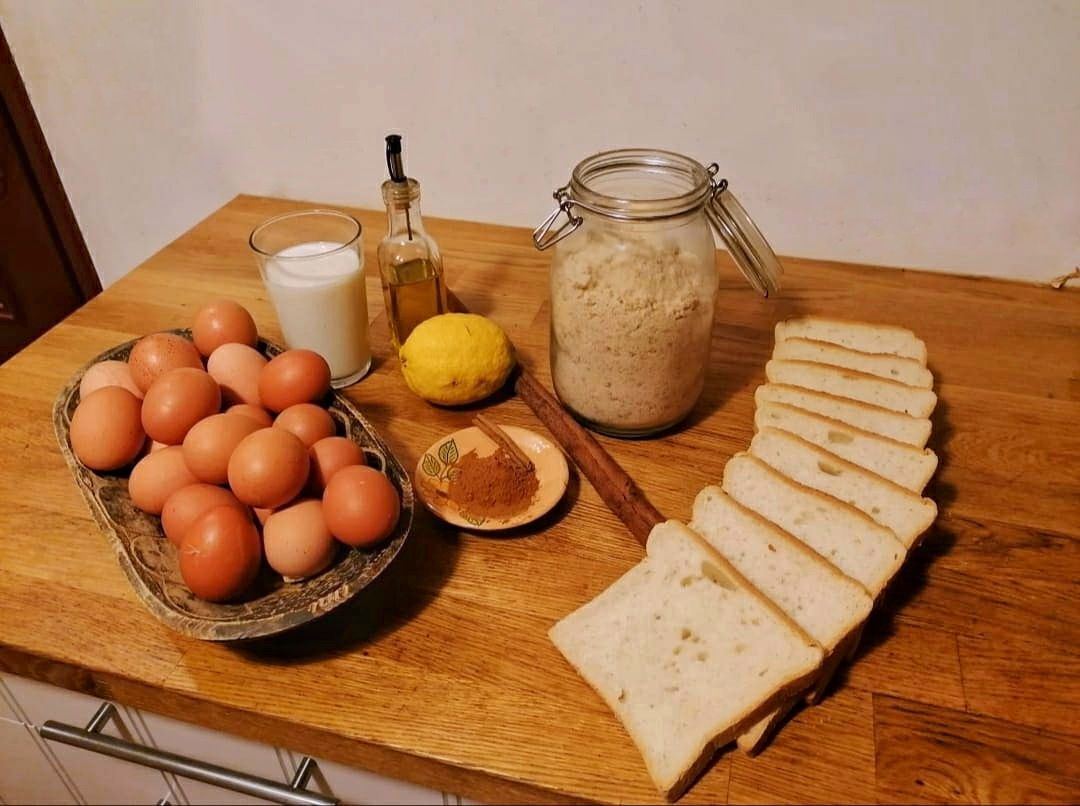 Photo: The ingredients for this christmas recipe

Rabanadas (Portuguese French Toast)
Ingredients for 10 rabanadas (in my family this is barely enough for the 4 of us…)
1 to 2 cups of sugar – I prefer light Brown sugar
2 tablespoons ground cinnamon
1 cinnamon stick
Lemon peel
6 large eggs
2 to 3 cups of milk
Oil for frying
1 loaf (8 ounces) of French bread, cut into 1-inch slices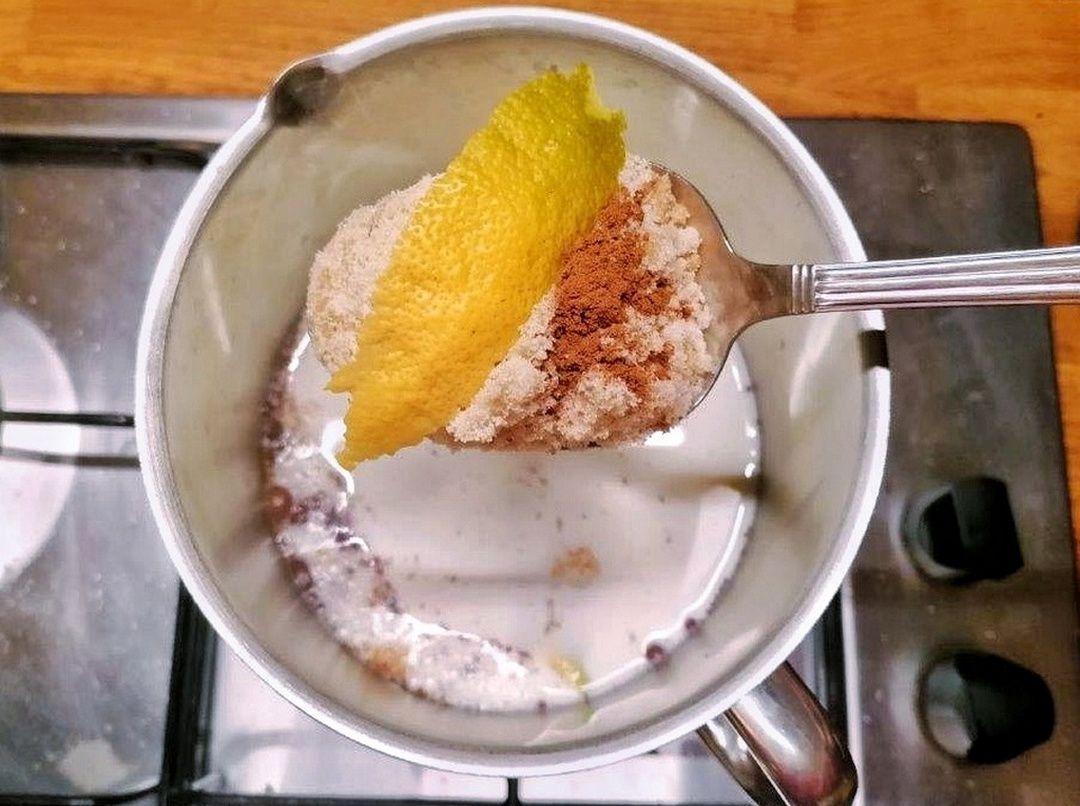 Photo: one of the secrets  
Directions
Heat up the milk with the cinnamon stick, 2 pieces of lemon peel and 2 soup spoons of sugar.
In a soup plate, mix sugar and cinnamon until blended.
In a large shallow dish, whisk eggs.
Prepare another soup plate to pour the milk.
Prepare a frying pan with the oil and a plate with kitchen roll to dry the Rabanadas from the oil.
 Dip both sides of bread in the milk, still warm.
Press the bread to remove the excess and pass it by the egg mixture.
Remove bread from egg mixture, allowing excess to drain, and fry 2-3 minutes on each side or until golden brown. Drain on paper towels.
Dip the warm Rabanadas in the cinnamon-sugar to coat all sides.
A super nice extra: in a pan boil water and some sugar, cinnamon and 2 lemon peels. Let it boil until you have a light syrup.
Pour this syrup over the rabanadas.
 Serve warm or at room temperature.
To see our Rabanadas recipe video press here.
See some other recipes in our COOK BOOK.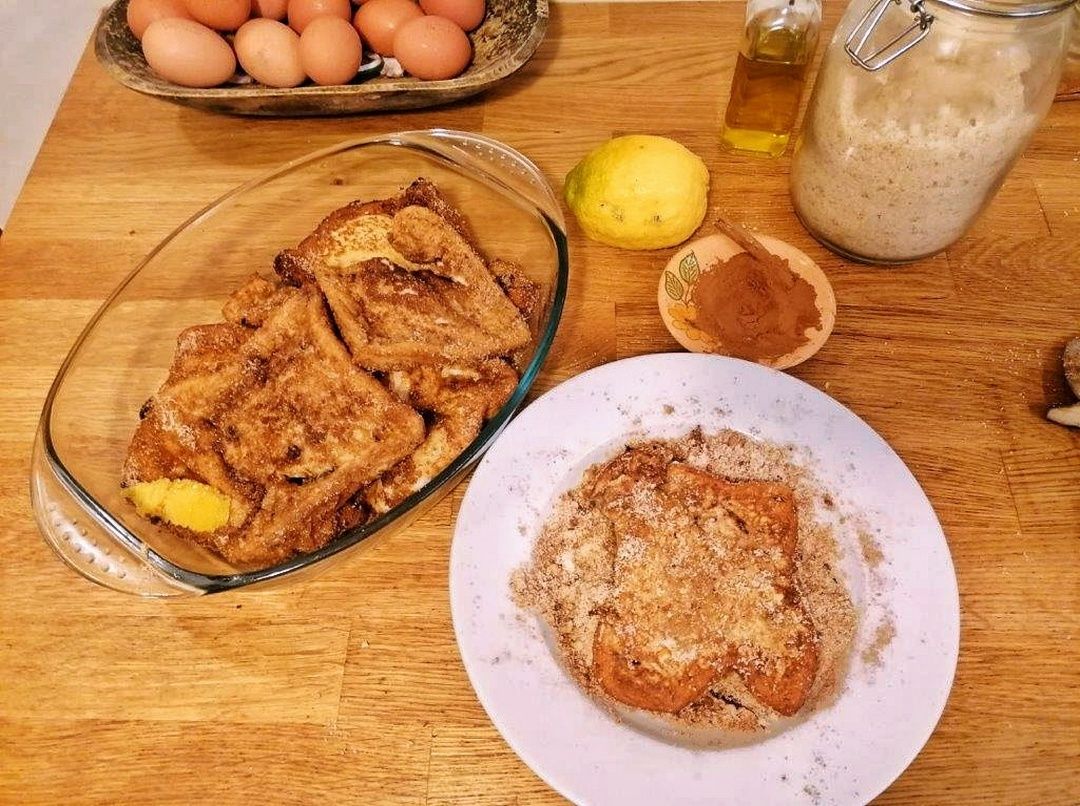 Photo: the best rabanadas ever!